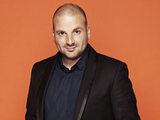 George Calombaris
has said that he finds fatherhood "beautiful".
The Australian
MasterChef
judge, who
welcomed James George
into the world with partner Natalie Tricarico in August this year, said that he has become as soft as "marshmallow" since being a dad.
Calombaris told
Woman's Day
magazine: "[Fatherhood] makes us strong men who run businesses and do all these things so soft - we become like marshmallows. I find myself sometimes just staring into his cot, just looking that he's breathing.
"I still can't believe that we could do something like this. It's amazing what a new addition to the family does to everyone. It lifts everyone up. It's really beautiful."
Calombaris compared becoming a father to building a restaurant, saying: "There's this sort of unknown factor. As much as you plan and prepare for everything, when that door swings open for the first day and people start coming in, everything changes.
"There was this amazing excitement and then this daunting reality. We look at this little person we've made and go, 'Everything else doesn't matter. This is the future.' This moment in our lives - we have to cherish it. The best treasure has been given to us."
When
Calombaris announced
that he was going to become a father, he said that he felt "thrilled" and that a child was a "blessing" for him and Tricarico.
More recently, he said that his
baby "comes first"
despite how much he loves his role on
MasterChef
.