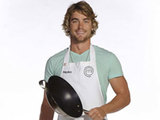 Former
MasterChef Australia
contestant
Hayden Quinn
is dating pro surfer Sally Fitzgibbons, it has been reported.
The reality television star, who
took part in the 2011 series of the cooking show
, has been romantically linked to Fitzgibbons on social pages and been seen out with her.
According to
The Daily Telegraph
, northern beaches lifeguard Quinn has been spotted with Fitzgibbons around Sydney on a number of occasions in the past few weeks. The pair also regularly make reference to each other on their
Twitter pages
.
During his time on
MasterChef
, Quinn was
rumoured to be seeing
fellow contestant Ellie Paxton-Hall, after he admitted that she was the kind of girl he would go out with.
However, when asked about the reports, he said: "No, there's nothing going on with me and Ellie. I've got a friend who likes the look of her though, so I wouldn't want to step on his toes."
After his
MasterChef
elimination, Quinn said that he thought viewers had perhaps "judge[d] a book by its cover" and presumed that he wouldn't be able to cook because of his relaxed "exterior image".
He added: "I was happy to get so far and show people a little bit more... someone who can cook, speak, have a decent input into the show and hopefully society when it all finishes up."
> 'MasterChef' Australia judge George Calombaris slams new pay rules
> 'MasterChef' Australia star: 'The show made me fat'