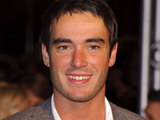 Jack Tweed
and Mark Wright will face trial over an incident that happened outside Deuces nightclub last month.
The reality TV duo and Tweed's brother Lewis appeared in Redbridge Magistrates' Court yesterday and pleaded not guilty to a public order offence of using threatening words and behaviour at builder Tom Grantham.
All three men are accused of being involved in a large brawl outside Wright's Essex bar. The trio were released on unconditional bail yesterday.
The two-day trial will take place in August.