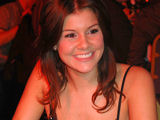 Big Brother 7's
Imogen Thomas
has said that her relationship with Jermain Defoe is helping him on the pitch.
The reality TV contestant claimed that the couple's happy homelife is the reason behind the England striker's recent glut of goals for England and Tottenham.
"I'd like to think that I have something to do with his recent run of form," Thomas told the
Daily Star
. "We spend a lot of time at home rather than going clubbing. We just relax and watch TV. I've got him addicted to
Crimewatch
.
"I'm taking good care of him and I think that half the battle is being happy, which he is at the moment.
"Some of his other girlfriends have always wanted him to go out partying, whereas I will tell him to stay home and save his energy if a big game is coming up. I'll cook him a nice meal and we'll sit back and watch the telly. He loves my cooking."
She added: "I'll sit there with a hot chocolate while he's working out and tell him to do one more set or run a bit faster. He even practises his tackling on me in the garden!"
Defoe's previous girlfriends include
Celebrity Big Brother
duo Chantelle Houghton and Danielle Lloyd and 23-year-old Charlotte Mears.