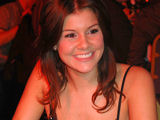 Imogen Thomas
has vowed that she would dump England footballer Jermain Defoe if he ever cheated on her.
The former
Big Brother
contestant told the
Daily Star
that she will not put up with infidelity, but believes her partner has put his womanising reputation behind him.
Thomas explained: "I'm one of those girls who'd walk away if he cheated. He knows that so I don't think he'll risk it! He's scared of me. He's like, 'Babe, you're so fiery', and I'm like, 'Yeah, I know'.
"I'd seen all the stories before we got together, but everyone has a past. He's made a few mistakes and it's because he hadn't found someone he wanted to be with."
She continued: "He is a sweetheart and treats me really well. He has such a big heart. He's so generous and caring and whatever he's got he'll give you. He always makes out like he's a hard man, but he's a big softie. He looks after me."
The glamour model was first
linked
to Defoe in July.