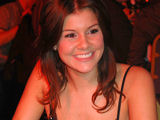 Big Brother 7
's
Imogen Thomas
has claimed that she split from footballer Jermain Defoe because they "wanted different things".
The glamour model, 26, said that Defoe wasn't ready for "stability" or starting a family.
"It was a mutual decision and it just wasn't meant to be. We split about a week ago but it had been rocky for a couple of weeks," she told the
Daily Star
.
"We just wanted different things. I wanted stability and I don't think Jermain's ready for that. I like to stay in quite a lot, watch DVDs, make dinner and chill out. I definitely wanted to settle down and have the whole marriage and kids thing. I still want to do that before I'm 30, I just need to find the right guy."
Defoe's previous lovers have included Danielle Lloyd, Chantelle Houghton and Charlotte Mears.
Thomas insisted that the Tottenham and England striker never cheated on her and also revealed that there was still the possibility they could get back together.
"He wasn't cheating. We were together every day so I don't see how he could possibly have been. There were no signs," said the Welsh reality TV star.
"Whether we'll get back together, only time will tell. At the moment, it just wasn't meant to be. But I wish him all the best and I have a lot of respect for him."