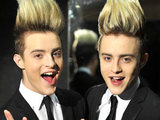 Jedward
's tour manager has insisted that the Irish twins are not gay.
Darryn Lyons prompted speculation over John and Edward Grimes's sexuality when he questioned them in the Celebrity Big Brother house. The duo denied that they are homosexual, but said that they have not had girlfriends.
"They are really shy. I'm sure they do fancy girls but don't like talking about sex as they're probably aware that their granny is watching," Liam McKenna told
New
magazine.
Asked if he thought Lyons might be right in his assumption, McKenna said: "Darryn was just stirring s**t. They're not gay."
He also added that he believes the 'Bad Behaviour' stars made a "conscious decision" to not have sex before they are married.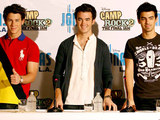 "The Jonas Brothers are their idols and they said they didn't want sex before marriage. I think the boys live their life by these guys," he said.
McKenna also confirmed that Jedward "were paid a million" to take part in Celebrity Big Brother, and revealed that they "save" all the money they earn.
"They save everything. They can afford to fly first class whenever they go anywhere but choose not to," he added. "Fame and money won't destroy them."
Celebrity Big Brother continues tonight at 10pm on Channel 5.
> Celebrity Big Brother: Jedward's hair 'insured for £1 million'
> Celebrity Big Brother: Jedward dressed as babies - video
Watch Bobby Sabel teach Jedward how to shave: