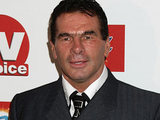 Celebrity Big Brother winner
Paddy Doherty
faces a potential three-year jail sentence after admitting affray at Manchester Crown Court.
Doherty was due to stand trial over a fight outside a PC World in Ancoats, but the 52-year-old confessed to affray before a jury was sworn in. The incident follows a long-standing feud between Doherty and fellow traveller Johnny Joyce.
The reality TV star was left with his ear nearly completely bitten off after the fight with Joyce, which was partially filmed by Johnny's brother Douglas. The video has been broadcast on YouTube and features Douglas shouting at his brother: "Come you dirty Doherty b**tard. Give it to him, Johnny. Give it to the dirty tramp, floor the dirty tramp."
Doherty's close friend and fellow Celebrity Big Brother star Sally Bercow has defended him and pleaded for him not to be sent to jail. She recently finished filming
Channel 5 fly-on-the-wall series When Paddy Met Sally
with the
Big Fat Gypsy Weddings
star.
"Paddy is actually quite a softie," Bercow told the
Daily Star
. "He comes from the traveller culture which has got its undercurrent of violence and machismo which is one thing I found difficult when I was staying with them.
"They do tend to resolve disputes by stepping outside and having a scrap. But I do know Paddy desperately wants to move away from that."
> Big Fat Gypsy Wedding Paddy Doherty shown fighting in court video