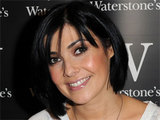 Kym Marsh
has revealed her horror at
EastEnders
star Jessie Wallace's recent heartbreak.
The
Coronation Street
actress, whose fellow soap star Wallace recently
cancelled her wedding
to Vince Morse after discovering raunchy messages sent from him to his ex-partner, said that she believes that Wallace will bounce back from the scandal.
Marsh said in her
New
magazine column: "I couldn't believe my eyes when I read about Jessie Wallace cancelling her wedding at the very last minute. I actually felt sick for her when I saw the private photo that her fiancé, Vince Morse, sent to his ex splashed across the papers. What was he thinking?
"Jessie's been so unlucky in love and finally seemed to have found happiness with Vince - then he goes and does that, the snake! That picture was for his eyes only and although some people might think she was foolish taking it, when you're in love, you don't think your partner's going to betray you like that. I would trust [partner] Jamie [Lomas] with anything, so she must have been absolutely horrified."
> Jessie Wallace receives death threats after cancelling wedding
> Jessie Wallace's jilted groom calling her day and night
Marsh continued: "Moving on, I know Jessie will bounce back from this. She's made of strong stuff and, having met her a few times over the years, I've got a lot of time for her. Good on her for kicking him out, too. If he'd done that to me, he'd have lost two vital parts of his body by now!"
Recent reports have implied that Wallace is
considering taking Morse back
, but his ex-wife Virginia Lewis has
urged the EastEnders actress to dump him
, describing him as a "serial cheat who's incapable of being faithful".
Read the full story in this week's new! magazine - out today
.