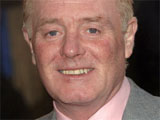 Former
Coronation Street
star
Bruce Jones
has vowed to spend six months in rehab after admitting that he has a drinking problem.
The actor, best known for playing Weatherfield layabout Les Battersby for ten years, confessed his alcoholism last week after
pleading
guilty to dangerous driving at Mold Crown Court.
Jones had been appearing in court in relation to an incident which saw him drunkenly grabbing the wheel of his wife's car while she was driving and threatening to kill them both.
In his first interview since revealing his shame, the ex-soap star told
The Mirror
: "I deserve absolutely no sympathy. I had everything most people dream of and I've blown the lot."
Speaking about his wife, he continued: "I'm worried I've lost Sandra. I love her to bits. She's supported me through everything and I've treated her so badly. If I could turn the clock back, I would.
"She tells me some of the horrific things I've said to her when I've been drunk. She's told me about me throwing things at her and I have no recollection the next day.
"My four kids have all fallen out with me over the drinking. I'm worried I'm going to lose my family. It's vile, I hate myself because of it and I want to change. I'm checking into rehab for six months and I'm going to change my life or die trying."
Jones will be sentenced for dangerous driving and drunken driving next month.