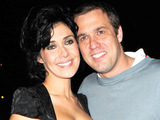 Kym Marsh
has said that she wants an "intimate" wedding with Jamie Lomas.
The soap star couple are
planning to marry
sometime in 2012, having been engaged since Christmas 2009.
However, Marsh told the
Sunday People
that she has no intention of holding a big showbiz ceremony.
"We'll probably go away ­somewhere. It will be quite last minute - we don't want something massive, we want it to be intimate," she claimed.
"If it was in Britain we'd have to start inviting everybody and it would become a huge affair. We want it just to be the two of us, our children, our parents and siblings and maybe one or two close friends. We'd probably have a big party afterwards for friends but we want quite a small ceremony."
Marsh further claimed that her wedding would be a largely symbolic event, as she already considers herself and Lomas to be "a firm couple".
"We're committed to each other," she said. "We have a baby together and we're engaged. Marriage is the next step but it's not necessary to make us a firm couple - we already are one.
"I think marriage these days is not the same as it was years ago. Rightly or wrongly, I don't think it's a big issue or a big priority... We definitely will do it but now I'm older it's not the be all and end all of life."
Marsh and Lomas
welcomed their daughter Polly
back in March.