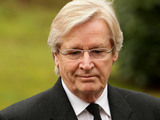 Bill Roache
has opened up about his relationship with second wife Sara and the death of their young daughter Edwina in 1984.
Speaking during a forthcoming appearance on
Piers Morgan's Life Stories
, Roache credited Sara with keeping the family strong. The couple married in 1978 and were together until
she died suddenly in February 2009
.
"We were in bed one night and she just died, no big heart attack or stroke, she just died in my arms," Roache recalled. "It took us nine months to work out her cause of death, and her body stopped producing the chemical to make it beat.
"She did everything for me and the children. She kept us all together and we had to pick ourselves up and carry on. It was a very difficult time."
Roache also opened up about the death of the couple's daughter Edwina, who passed away from pneumonia in 1984 at the age of 18 months.
"Edwina had a bad cold. My parents-in-law were babysitting," he recalled. "When we got back, Sara checked on Edwina and she was fine. We then made a cup of tea and then about 45 minutes later Sara went to check on her again and she was gone, she had died.
"I felt so guilty. You're supposed to look after your children. It was an unbelievable shock.... On the actual morning of her funeral, I woke up and I saw a bright ball of golden light and Edwina's face was in the middle of it smiling, and with it came a wonderful feeling of peace."
Roache also said that he believed losing a daughter brought him and his wife closer together, adding: "We grieved for some time, then we got to the point that we could talk about her and the actual strength in our relationship [came] because we talked the whole time. The letters that we got were amazing."
During the interview the actor, who plays Ken Barlow on
Coronation Street
, was also candid about his past womanising, also confirming that
he had a fling with his former co-star Pat Phoenix
, who played Elsie Tanner on the show.
He said that Sara "knew exactly what I was like", but added: "She knew I'd changed."
Roache's appearance on
Piers Morgan's Life Stories
is due to air next month on ITV1.