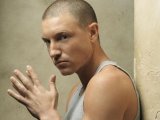 Former
Prison Break
star Lane Garrison has been ordered to undertake a 90-day psychiatric test in a prison before he is sentenced for drink driving.
The actor was behind the wheel of a car in December when he crashed into a tree, killing a 17-year-old boy passenger.
At the time he was found to have a blood count of over 0.15 and pleaded guilty in May to a felony charge of vehicular manslaughter and driving under the influence causing injury. He also pleaded guilty to a misdemeanor charge for providing alcohol to minors.
During a hearing at the Los Angeles County Superior Court today, the judge ruled that he needed to see the results of a "diagnostic" test before he could decide on Garrison's sentence.
Judge Elden S. Fox also told him his celebrity status meant nothing, telling him: "The fact that you may have some notoriety, I don't really care."