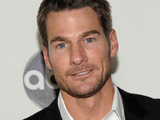 Brad Womack
is said to be struggling with his split from Emily Maynard.
The former
Bachelor
star
proposed to Maynard in this spring's season finale of the ABC series
. The two confirmed
their break-up last month
, revealing that they had ended their engagement.
However, a source has said that Womack is having trouble letting go of Maynard,
Us Weekly
reports.
"When they weren't together, Brad would drunk dial Emily and cry," said the insider.
Another source revealed that Womack wishes that he could get back together with the 24-year-old.
Maynard
recently appeared on the current season of The Bachelorette to discuss the end of her relationship with the Texas-based bar owner
.
"I will always be in love with Brad," Maynard said. "No-one will ever hear me say a bad word about him. Not a day will go by that I won't regret how things turned out. I can promise nobody is more disappointed than I am."
Maynard is rumoured
to be in talks to be the next Bachelorette
.