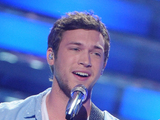 American Idol
winner
Phillip Phillips
has been released from the hospital following his recent kidney surgery.
The singer
had a six-hour operation last week to remove several kidney stones
which were too large to have passed through his system.
Phillips has now confirmed his release from a Los Angeles medical centre and assured fans that he's on the mend, reports
E! News
.
"I'm out of the hospital and back to work. Looking forward to the future," the singer declared.
Phillips's procedure had
previously been postponed in May
when he fell ill with a severe sinus infection.
The singer apparently
underwent eight operations in the run-up to winning American Idol
over Jessica Sanchez.
Watch Phillip Phillips perform 'We've Got Tonight below: