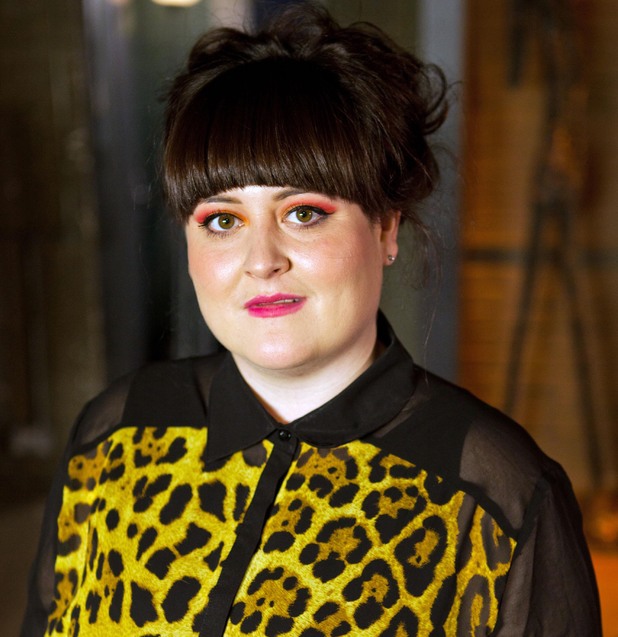 New mum Tegan Lomax has a dramatic week ahead on
Hollyoaks
as her baby mystery intensifies.
Show bosses have confirmed that the father of Tegan's daughter Rose is someone in the village, and her sister Leela is about to turn detective as she tries to find out who it is.
Tegan also has darker times ahead as she is attacked unexpectedly, throwing the Lomax family into turmoil...
Here, Jessica Ellis - who plays Tegan - chats to
Digital Spy
about what's in store.
How's it going for you at Hollyoaks so far?
"I'm really enjoying it - especially now that I've moved into my house in Liverpool and feel a bit more settled. I hate being new - I'd always rather just fast-forward a month so I know everyone! To be honest, though, everyone has just been so welcoming to me. There's no divide between actors, crew, make-up or anyone else - everyone just gets along, which I really like.
"I've done TV before, but I'm mainly a theatre actor, so this is my first big TV role. It's quite daunting but I'm having a ball."
Are you pleased with the reaction to the Lomax family?
"Definitely. Obviously I came in with a quite a big story straight away when Tegan gave birth. I was on screen for about four days, and then there were about three weeks where I was off again. I've been back on screen recently and now will be back on every week for the next four weeks.
"Considering I haven't been on all that much, the reaction on Twitter has been really positive. People seem to have really taken to Tegan and the Lomaxes, and I hope that Tegan is a different character than what people have seen before."
What was the audition process like for Hollyoaks?
"Last year I did a job for seven months in Keswick in the Lake District and then in January I moved back to London, as that's where I'd been living before. I was working as a nanny and a special needs teacher as well.
"Once I was settled back in London, I hadn't done any acting work since November so I was getting itchy feet, but then I got my audition for
Hollyoaks
. I even remember changing my audition so that it was after work, because I couldn't miss out on pay and I really didn't expect to get this job.
"Fortunately the audition went really well and then I got a call-back. After that it was a waiting game. Eventually I heard back and was called in to help audition actresses who would play our younger sister, Peri. Myself and Kirsty [who plays Leela] were both brought in for those auditions and we hit it off straight away. It turned out that we had the job, but they'd just wanted to see whether we had chemistry. It was the next day when my agent told me I definitely had the part."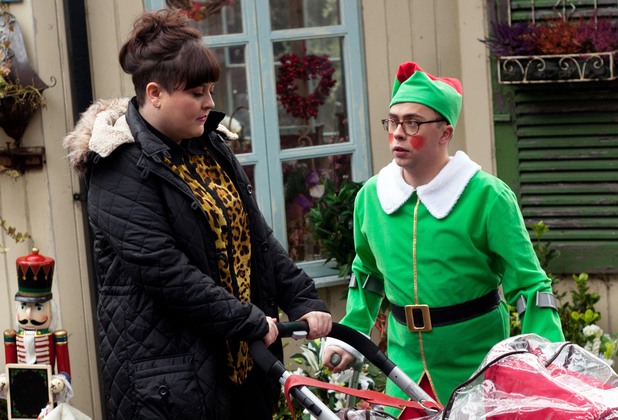 We know that the father of Tegan's baby is someone in the village, and at first Dennis is in the frame! What can you tell us about that?
"Well, Tegan has moved to this small village and really doesn't expect to bump into Dennis. When they see each other, their lives are not the same as when they first met. Dennis's wife has died, while Tegan has a baby now. What I can say is that they do have a secret that they don't want anyone to know, so it's really awkward - but whether it's because Dennis is the father, you'll have to wait and see!
"You'll also see that Leela is desperate to know who the father is. She's probably quite hurt, because they're usually so close and this is the one thing Tegan won't tell her. As Leela sees Tegan and Dennis acting suspiciously, she invites him round to dinner and confronts him in front of the family…"
How does Tegan end up being attacked?
"It's a case of mistaken identity. Afterwards, Tegan can't remember anything about what happened, but the doctors tell her that her memories might return as time goes on."
How would Tegan feel if she knew about Danny's secret life?
"The Lomaxes seem to have a great family life. They're not perfect, but everyone is happy and has a good job. Tegan loves her dad and gets along really well with him, so she'd be absolutely heartbroken if she knew what was going on - not just for herself, but also for her mum. Leela and Tegan are of that age where they're involved in relationships and they understand more about love, so they'd know what Sam was going through.
"Tegan hasn't got a problem with anyone being gay, but the fact it hasn't been mentioned before means that the truth would be hard to take."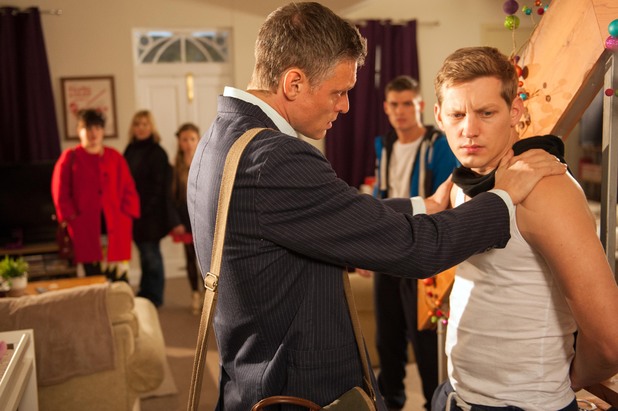 Has Kieron Richardson (Ste) been helping you to settle in?
"Definitely - me and Kieron got on straight away. In the show too, it was always the plan that Tegan and Ste would meet each other and become best mates, whereas Leela would struggle to get to that place. Kieron has been really welcoming and it's just been a pleasure to work with him. We really look forward to our scenes together and we have such a laugh. I think he likes having a full family unit in the show, because he's never really had that before."
How much have the bosses told you about future plans for Tegan and the family?
"I've had two meetings recently and there's loads of exciting stuff coming up for me. I came in with a bang and then I had little things after that, but there's lots more interesting stuff that will be happening with Tegan and the family unit. Some of that will involve me and Kirsty. I think Tegan will come into her own and show her funny side a lot more. It's very exciting."
Read more Hollyoaks spoilers and newsHollyoaks airs weeknights at 6.30pm on Channel 4, with first look screenings at 7pm on E4.Digital Spy
Soap Scoop video - press play below to find out why things are looking up for David in
Coronation Street
, who makes a murder confession in
EastEnders
, which
Emmerdale
bad boy Charity is about to pursue, and what happens in the aftermath of Sienna's comeuppance in
Hollyoaks
.
Click to see and add comments

1