Emmerdale
's Katie Sugden finally gets proof of Robert's affair next week when she photographs him in a passionate clinch with Aaron Livesy.
Katie secures the evidence she needs when Aaron decides to betray his secret lover, seducing him at Wylie's Farm and texting Katie with details of where they'll be.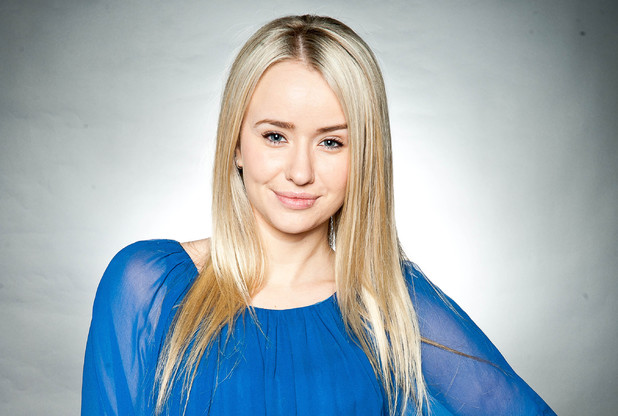 The explosive scenes play out in Sammy Winward's final week on screen as Katie, meaning that there's bound to be huge twists and turns ahead whatever the outcome.
Here, Sammy shares some gossip on her dramatic final episodes.
What happens when Katie finds out that Robert has checked into a hotel later this week?
"By this point, Katie has decided that she's going to have to bite her tongue and ignore all of her suspicions about Robert, but that changes when she overhears Robert in the pub organising a surprise for his date at the hotel.
"Katie goes straight to Chrissie to suggest they should go along to the hotel and see if he's there. Chrissie is sick of Katie getting involved but she also knows it could be the truth, so she agrees to go."
How does Robert manage to get out of this one?
"When they get to the hotel, Robert is there with Aaron but he sees Chrissie and Katie. He then quickly decides to phone Chrissie and say that he's booked a surprise for her at this hotel! Chrissie ends up thinking that Robert was just being romantic, so it's Katie who ends up in tears again and everyone hates her. Andy finds out as well and he's absolutely furious."
Robert then threatens Katie again…
"Yes, Robert tells Katie that if she plays with fire then she's going to get burned. The caravan that Katie and Andy have moved into at the farm then gets blown up a couple of days later, so Katie knows that it was Robert. Because she's the only person who has heard Robert say those words, nobody else thinks it was him."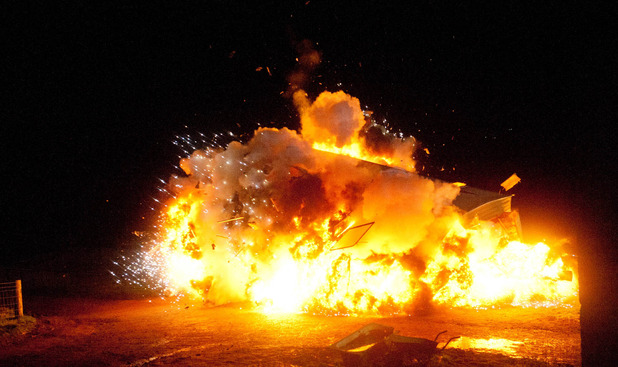 What was it like to film the caravan fire scenes?
"There was a huge explosion and we weren't quite ready for it! Me and Kelvin [Fletcher, who plays Andy] were both saying that we hate cheesy reactions to an explosion like gasps and silly faces. We were trying to plan the scene so that Kelvin would cover me and our faces wouldn't really be in shot, but then when the explosion happened, it was so big and loud that our reactions were completely natural because it was so shocking. We were genuinely quite scared!
"Those scenes were filmed on a night shoot in the moors. It was pretty cold and the blaze was the last shot, so we had to rely on lots of hand warmers and hot water bottles beforehand that night!"
Do Katie and Andy feel like their hopes and dreams are literally going up in smoke?
"Yeah, they really do - especially as Katie hasn't insured the caravan because she's been so busy trying to bring Robert down. That's another massive thing and Andy is furious with her again. But even that won't stop Katie going after Robert - if anything, it makes her more angry and determined. She'll do it quietly, but she's more determined than ever to bring him down."
Does Katie confront Robert about the fire?
"Yes, Katie turns up at Home Farm and the whole White family are there. She goes in all guns blazing, but all of them are really quite smug about it. They tell Katie that she's losing her mind and going crazy. They even say it could have been her because she's so unhinged at the moment!
"Everyone is sick of Katie going on and on. They don't understand why she's doing it, so they tell her that they'll call the police if she comes round again."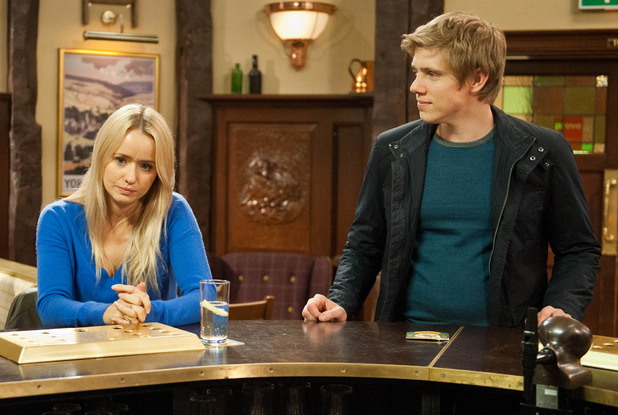 How does Andy feel about Katie's latest accusations towards Robert?
"For Andy, these constant accusations are just too much and their marriage is now at stake. Because it's history repeating itself in terms of Robert messing everything up for them, it's too much for Andy to cope with. Unfortunately, Katie has got blinkers on because she can't see how much it's affecting him and everyone else.
"In the end, Andy decides that he's going to move out and Katie is absolutely devastated. It's only at that point that she decides to bite her tongue."
Is Katie also surprised by the reaction she gets when she confides in Chas?
"Yes, Katie talks to Chas about the situation, but Chas says that it isn't Katie's problem and she isn't going to listen to her. Katie is surprised and points out that Chas didn't listen to Gennie when she told her about Debbie and Cameron. Chas just explodes and says, 'How dare you bring my sister into this?' So Chas falls out with Katie as well!"
How does Katie react when Aaron then tells her that she's right about Robert and he can prove it?
"Aaron is very sure of himself and says that if Katie turns up at this certain time, she will find the proof that she's been looking for. At the point that Aaron comes to see her at the pub, Katie is actually done with the Robert thing - she doesn't want to deal with it anymore because she knows that she's risking losing the love of her life over this. But then when Aaron speaks to her, she can't resist."
What happens when Robert and Chrissie's wedding day arrives the next morning?
"Andy finds out that the farm sale has been pulled because of Katie's antics. He tells her that he can't do this anymore and Katie has ruined everything. She's devastated.
"Katie then gets a message from Aaron telling her to come to Wylie's Farm now. She heads straight there and finds Robert in a clinch with the last person she'd expect in the whole village - Aaron! She gets out her phone and she takes a picture of them in that embrace. It's the camera clicking on the phone that makes Robert and Aaron realise that she's there.
"The scenes are written really well and Katie's relationship with Robert is really explored afterwards. They talk about a lot of stuff and it all comes to a head!"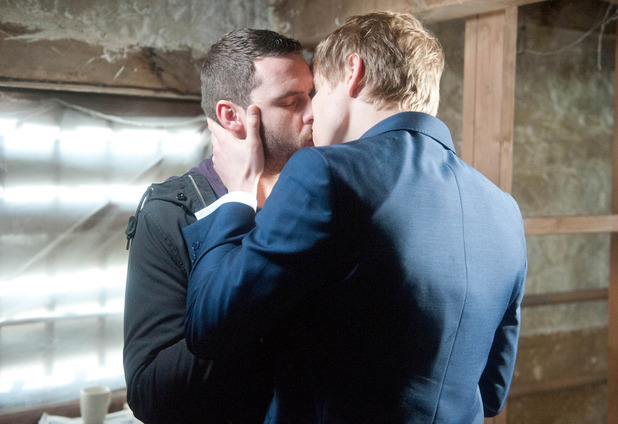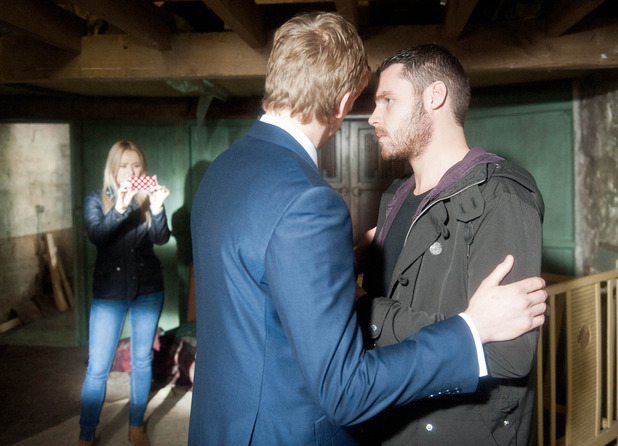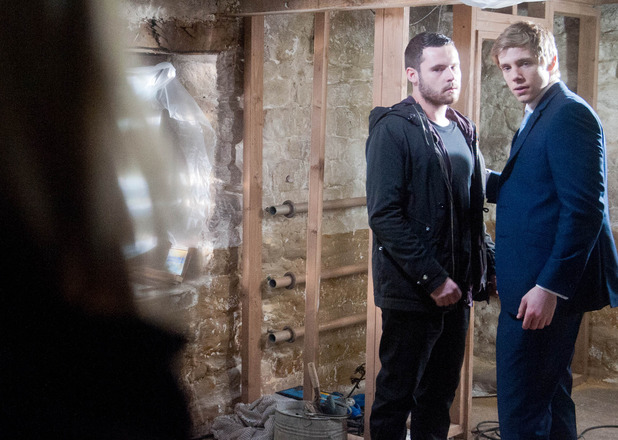 This is your exit week, so will these episodes be unmissable for the viewers?
"Yes, I think they'll change quite a lot of characters' lives for a while, which is always exciting! It's one of the most dramatic storylines I've been involved in, especially emotionally. It's been really good to film.
"Because we've had Katie and Andy back together and Robert involved again, it's almost like the love triangle has repeated itself. We haven't repeated it exactly but we've always wanted to explore it again and bring it to a head."
How are you feeling about leaving the show after so long as Katie?
"Leaving
Emmerdale
is not a decision I have made lightly. I have had the most amazing 13 years and I'm going to miss everyone terribly. I have loved every second of playing Katie, but no-one becomes an actor to play just one role, so now it's time for me to move on. I don't want to give away anything about how Katie goes but it's certainly going to be dramatic."
Read more Emmerdale spoilers and newsEmmerdale airs weeknights at 7pm on ITV, with an extra episode at 8pm on Thursdays.
Click to see and add comments

22