Soaps Interview
Kate Ritchie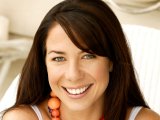 She landed the job when she was just eight years old and twenty years later, Kate Ritchie is still a familiar face in Summer Bay.
Over the years, Sally Fletcher hass lost a couple of foster fathers and has been unlucky in love - recently losing her on-screen husband. Flynn, to cancer.
In real life, Kate has entered the Guiness Book of Records, alongside colleague Ray Meagher who plays Alf Stewart in the soap for being the longest serving actor in an Australian drama series.
We caught up with the 29-year-old actress - whose birthday it is today - while she was in England to see if she could ever leave the role behind and what it's been like growing up on screen.
So, you're over in the UK again, how are you finding it?
"It's probably my sixth time over - it's my second time coming over with the cast and the first was about five years ago now. Before that I did panto for quite a few years like I've been to Newcastle and Sunderland, the last one I actually did was in Southampton doing Dick Whittington with Jim Davidson.
"It's been a while since I've been here but before that I came quite regularly. It's completely different in lots of ways, it's like any trip - you appreciate what you've got at home. Like I appreciate the space and not having to battle with so many people. I live in Sydney so you think 'I live in a big city and it's really cosmopolitan' but you don't realise how small we are until you come somewhere like this. But I do love it and I've loved coming over this time because it's the first time that I've really had a few days where I just haven't had to do anything and I've been sitting and hanging out on my own, shopping and just wondering around.
"I love how old the city is, that's the other thing you notice about Sydney, we have buildings that are, well the oldest thing is 200 years old really. So it's kind of nothing compared to here. So I guess I love the history of the city."
Have you managed to see any of the UK soaps when you've been over here?
"I watched a bit of Hollyoaks, they were having a double wedding and I was saying, 'what is going on?' It kind of makes Home & Away look remarkably normal. I thought we had crazy storylines but we haven't had anything like that. But we get quite a lot of programmes through cable television you can watch anything at home really and I've seen bits and pieces over the years. I think you guys do really good drama, like shows like Cold Feet, they're just fantastic and I watch all of that stuff at home anyway."
You've obviously been playing Sally for a long time now, have you morphed into her or are you still two very seperate people?
"I think - my head's right, I know we're two completely different people but I think that there's a lot more about the two of us that we have in common and I can't be playing the same character for 20 years and basically grow up together and you know, go through things in your life together. In some ways she's my best mate, it's not like I sit down and talk to her but she's always been there and she's kind of like a comfort. In life when things are thrown at you or you're having a bad day, like anyone's life, the one constant has been Sally. So in some ways I have a real attachment to her and to the show, it's certainly not just a job."
Click 'next' for more!
Do you think you could ever bring yourself to leave?
"I don't know! I'd fall in a heap I think, I wouldn't know what to do with myself if I don't get to have a schedule every Friday. But I think I'm not ready to go anywhere just now - I do know that. I'm excited I guess about what life beyond Home & Away will be like. I have no idea what it will be like but I do think about it and at some point you've got to prepare for moving on. Although there are people in shows over here that have been there for 40 years, I'm not sure I want to do that. But then I think if someone had said to me as an eight year old 'in twenty years time you'll be here' I would have thought that was hilarious and that was never even possible.

"I mean seriously, in a country like Australia, apart from Neighbours, shows don't last that long so I don't think we thought when we started Home & Away in 1988, people were hoping it would last for 13 weeks and that was great. No one would have expected that I'd be here talking to you, so who knows you never know what's going to happen."

If and when you do quit, how would you like Sally to leave because you must be quite precious about her?
"I know how I don't want her to go. I don't want her to get on the bus to Yabby Creek or something and get a job at Yabby Creek High and just fade into insignificance. I'd like to think that it would be something dramatic I guess, but then does that mean they'd have to kill her off? I'm not sure I really want her to be killed off, so to be honest I think if that time ever comes I'd have to put it in their capable hands and let them do it.

"They've been doing it for twenty years, they've been doing something right up until this point, I'm sure they'll be able to do it justice. It would be nice I guess for her to fall in love and live happily ever after - but things like that don't usually happen in Summer Bay!"

When new and younger cast members join the set do you feel like it's your job to look after them because you have been there for a while?
"In some ways I feel that I do that, I mean I certainly don't push my thoughts on to them. I feel like I would always let them come and talk to me, but I worry sometimes that they think I'm a bit scary because I've been there so long.

"You know a lot of the kids get the role on Home & Away, they've grown up watching it as well so it must be quite daunting suddenly working alongside someone that you've been watching on television as a kid. It's funny you should say that because for years and years I was always the baby, I was just 'little Sally' and then it felt like overnight I'm like one of the old people now. It's just me and Alf!"

Do you miss that, being one of the young ones?
"I think I do a little bit, there's far less responsibility when you're a kid on the show. I mean, there's people on the show now like Indiana Evans, the beautiful girl that plays Matilda. She wasn't even born when we first started. I don't want to talk about that, it's making me feel really old! I don't feel old but then you think of things like that and you think, 'Oh God'. It's really nice I guess when you get new people, as much as it's really nice to feel all familiar and you get to know everyone really well. I think just for the benefit of the show as well and to keep my interest, you know I've been doing the same job for twenty years, it's kind of nice to have new people to work with. Viewers always like to see new faces and hopefully they like to see the old ones too!"

Sally's been through a lot of stuff over the years. She's now got together with Brad - do you think this could possible be the happy end for her?
"I'd like to think so, but the chances are something's going to happen down the track. I think I'd like to see them together long term because she has kind of had her fair share of ups and downs.

"Also the story over the last few months where she lost her husband Flynn to cancer, personally I liked working on that story because it was really challenging and I think that we all did some really good work. But it's sad for Sally in a whole lot of ways so it would be really nice to see her live happily ever after. Brad seems like a good bloke, but they all seem good to start with don't they? Even in real life!"

Click 'next' for more!

Jodi Gordon's got a lot of testing storylines coming up with Martha, does Sally have to be there to help her pick up the pieces?
"I guess so. I think the story with Jodi has been really interesting. I think there are times in your life where you go through ups and downs and you act completely out of character and you look back and think 'my God I can't believe that was even me'. But I guess that's how you learn things, and I guess really Sally's role in the whole thing is just to be there at the end. I think she tries so hard to guide Martha and tell her what she should and shouldn't be doing and that just doesn't work. Not when you're dealing with someone that's going to do what they want anyway, it actually just makes it worse. It's been hard for Sally to realise and Alf as well, just that you just have to stand back and let it run its course and be there at the end."

Do you think Sally gets sick of always having to be there for people and pick up the pieces or do you think she enjoys it really?
"I think she likes it. I don't think she's kind of a martyr or anything or is 'woe is me, I have to look after everybody'. I think she just does it because she's just a really good person. She's human and I don't think she does it for any kind of accolade's or medals, she likes to look after people and give people a chance. Really that's the only reason that she's where she is, because all of those years ago I guess when she was fostered by Tom and Pippa and all of that kind of thing. If they hadn't given her - a kid that didn't really have a chance a go then she wouldn't be where she is. So I guess in some ways that's what kind of drives her as well."

If you got the choice is there anything you'd really like to see Sally do on the show?

"I often talk about how it would be really nice to see Sally do something crazy because she never does that kind of thing. But her teenage years are past her and she's not going to be doing any pole dancing. I think it would just be nice to really see her just be happy. I enjoy working in the school with all the young kids and stuff so any story that gets me into work mode I actually really enjoy. I'm not much into all of the lovey dovey stuff if you know what I mean - that's kind of basic, we've done that a thousand times so I think it's really interesting. I'm a teacher so I get into school and you get to work with all the different kids every day and all of that kind of thing. But it reminds me how old I am."

If Sally hadn't come about what do you think you would have ended up doing instead?
"I don't know. For years I guess I was working on the show and I thought when I was at school that I'd at some point leave and get a real job. For a while there my dad was a police man I thought maybe I could do something like that. I went to an agricultural highschool so I was interested in veterinary science and things like that and architecture. But then I realised you had to go to university for like six years to do both of those, so I went 'I'd rather stay on Home & Away!'

"There are lots of things I guess I'm interested in I think now as I'm older, I realise I'm actually still on Home & Away because I really want to be there and I love being an actor. For a long itme you're not quite sure if you're just there because that's what was handed to you all those years ago or out of convenience, or whether that's what you want to do.

"Over the last few months I've been hosting It Takes Two in Australia, in the first series I was actually one of the celebrity singers, the next series they asked me back to co-host. I think what's been really good about doing that, talking about proving to yourself why you're actually doing certain jobs. Co-hosting, as much as I've had a great time, I've realised that I really like to act. It's been a really nice process to realise that I'm not just on Home & Away just because I am, like I'm there because I've made the choice to make this my career. I think if I wasn't acting I think I'd like to produce, but who knows."

Home & Away airs at 12pm and 6pm on Channel Five, with catch up episodes at 5.30 pm on Five Life. Home & Away the Early Years is on at 10am Monday to Friday also on Five Life Get the Inside Soap magazine on your iPhone or iPad