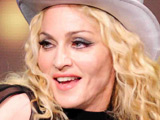 Heartbeat
star
Tricia Penrose
has revealed that she wants Madonna to make a guest appearance on the programme.
The actress suggested that Madge could play a relative of her character Gina Ward in a special episode of the ITV1 show.
A string of high-profile stars have already been seen on the drama over the years, including Charlotte Church, Gary Barlow and Lulu.
"My ideal guest star on
Heartbeat
would have to be Madonna. She's a legend," Tricia explained. "It'd be great if she could play a relative of Gina's - perhaps one of her aunts. Come on, Madonna, pick up the phone..."
Asked about Church's appearance in 1999, Penrose said: "She sang 'Ave Maria' live for us in the scene. It brought tears to my eyes. I remember thinking: 'What a great voice'. People said I looked like her mum, too. It's nice to have met her at the beginning of her fame, as it was obvious she'd go far."