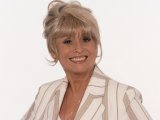 Barbara Windsor's long-awaited return to
EastEnders
has been confirmed today.
The BBC said that Peggy Mitchell would be back on screens from the late summer, promising that she would be "back at the heart of the action from the outset."
John Yorke, Controller of Continuing Drama Series, said: "I am delighted that Barbara is coming back to the show. She is a hugely loved character and one we think will be stirring things up from the moment she steps back into Walford."
Windsor added: "I am over the moon to be coming back to the show. I had a great time when I came back to film for a couple of weeks recently. It really reminded me that the square is where I feel at home."
The actress left the soap in 2003 after contracting the Epstein-Barr virus.