Soaps News
Hudson speaks about Corrie exit storyline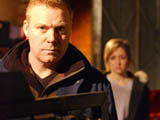 Coronation Street
actress Lucy-Jo Hudson has spoken about the shocking storyline which leads to her exit from the soap.
Hudson's character, Katy Harris, has a dramatic time ahead next week, as she aborts her baby, wrongly believing that her lover, Martin Platt, is cheating on her. When Katy discovers that her father, Tommy, has given her the wrong information, she attacks him with a wrench in the heat of the moment, and the blow proves fatal.
Katy and her mother Angela then plan to pin the death on Martin.
Hudson told
The Mirror
, "It's a bit wicked really isn't it? When Katy thinks Martin's having an affair the first thing she does is storm round and smack him in the face.
"She's turned into a right psycho, which is much more interesting than playing a sweet schoolgirl. We filmed all these shots of Katy whacking Tommy with a wrench - it was ace.
"I didn't want Katy just going off to college, so I asked them if I could go out with a bang - and I am. Katy has an abortion, splits up with Martin, then kills her dad. Wow! And Killer Katy has quite a nice ring to it."
She added, "I am seriously going to miss everybody. But I'm more excited about moving on to other jobs and meeting people. I've done two years and it's been a real honour. I'm hoping that's enough for me to be established but not typecast.
"There's a lot in the pipeline - dramas, theatre, presenting - so who knows?"
Get the Inside Soap magazine on your iPhone or iPad