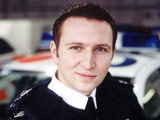 A chance encounter with a gangster's wife presents Sun Hill's Sgt. Dale Smith with a major dilemma next month.
Is it all too risky for him to become emotionally involved - or could it all end in tears?
Louise Larson - played by Rosie Marcel - is the beautiful and classy 'trophy' wife with a taste for the high life. She contemplates making a clean break from her husband after becoming increasingly aware of his illegal activities; but her glamorous and expensive lifestyle holds her back.
The sexy female meets Smithy (Alex Walkinshaw) when her car is stolen. Still traumatised by the loss of girlfriend Kerry Young (Beth Cordingly) last year, Smithy is unable to deny his attraction to Louise - and soon realises there is an important decision to be made.
Commenting on his new on-screen love interest, Alex said: "I'm delighted that Smithy has a new love interest, especially with a woman who is the complete opposite of anyone he has previously dated. It will be good for him to walk on the wild side for once.???