Soaps News
'The OC' video game brought to mobiles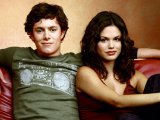 Fans of
The OC
will be able to engage in simulations of its universe in the near future.
According to
The Hollywood Reporter
, publisher Gameloft will announce its multiyear licence for the mobile games today. The company has been responsible for creating mobile games such as
War of the Worlds
and a game based on Peter Jackson's upcoming remake of
King Kong
.
Gameloft president Michel Guillemot has stated that the first game, scheduled for release next year, promises to allow players to take the role of one of the show's four main characters or to create a new one of their own to make it in the
OC
community.
Gameplay will be akin to
The Sims
, with players aiming to make their characters fit in the
OC
world, date the right people and move in the rights social circles.
Get the Inside Soap magazine on your iPhone or iPad