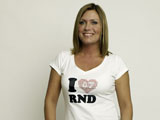 Long-running
Heartbeat
actress Tricia Penrose has admitted that she feared being axed from the show when the actor who plays her on-screen husband announced he was quitting.
The actress, who has played barmaid Gina Bellamy since 1993, was allowed to stick with the show despite actor Mark Jordon (PC Phil Bellamy) being written out.
Penrose revealed: "I feared that they would kill us both off. It was a bit scary and I thought I'd be back on the dole. I didn't know what was going to happen."
The 37-year-old also said Jordon, who is one of the programme's original cast members, would be missed. She added: "Fans will miss Phil big time, but his departure has opened new doors for Gina.
"Viewers will see how Gina deals with being a widow. Since Mark left I've filmed some really good, emotional stuff and done lots of crying scenes."
Jordon's last scenes will be broadcast in December. He decided to finish working on
Heartbeat
so that he could spend more time with his family and concentrate on other work. He said of the decision: "I was really worried that they'd get rid of both of us and I didn't want to screw up Tricia's future on the show."