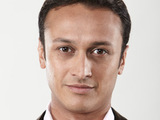 Emmerdale
's Jai Sharma has experienced an eventful year in the village thanks to his turbulent relationship with Charity Tate and clashes with dangerous Cain Dingle. Following Jai and Charity's recent engagement, their storylines look set to intensify in forthcoming episodes as Cain's jealousy rears its ugly head again and the full Sharma clan arrive on the scene.
Here,
Chris Bisson
- who plays Jai - chats to
Digital Spy
about what's to come for his character's current plotlines over the next few weeks.
There's been a lot going on for Jai in Emmerdale this year!
"I've had a great time! There's been lots of interesting things to play, like Jai's on and off relationship with Charity, and Cain getting involved. We've also been building up to the wedding, Jai's discovered that he's got a daughter and now the full Sharma family are arriving, which we've just started filming. It's been great."
Has it felt like your busiest time on the show?
"Yes, definitely. I've been here for two years and I have been particularly busy lately. Literally all year, I've been flat out as we were building up to the Mia storyline through the spring and the summer. Now we're moving onto the wedding storyline and Cain trying to stop the wedding, as well as the family arriving. It's been pretty full-on!"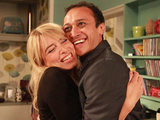 What's the main appeal of Charity to Jai?
"He likes the fact that she's unpredictable - he enjoys that type of relationship. But Charity often does seem to push it just a little bit too far! She keeps Jai on his toes, though, and he likes that sparky nature even though it sometimes gets him into trouble. I think what we've seen time and time again is that Jai would prefer to be with Charity than without her."
Jai and Charity nearly split for good recently after her scheming against Nikhil. Do you think she's learned her lesson now?
"I think the thing with Charity is that a leopard never changes its spots and she's always going to be problematic. But for the time being, the relationship between Jai and Charity has changed and they seem to have found an understanding now. It's been interesting to see how it has changed as it seems to have become a more adult relationship.
"When they agreed to get married, they had a proper discussion on how it was going to work, what they were going to do, and whether Charity was going to be nice to Jai's brother. It seemed like a very adult conversation for Jai and Charity to be having."
What's the viewer reaction been like to Jai and Charity's relationship?
"It's been quite funny, as I gauge feedback from when I'm walking around the supermarket and I see what people say to me. Some people seem to want a big wedding and they want Charity to change and be happy with Jai. But some people try to warn me off and say that I don't want to be getting involved with Charity as she's trouble! It's interesting that there's a bit of a split - it's good that we're dividing opinion."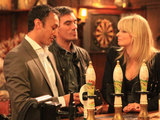 There'll be some fresh tension soon when Jai admits that he hasn't told his parents about Charity and the engagement. Does that mean he's ashamed of her?
"I think that Jai has a reservation in the back of his mind, which is understandable because of the things that Charity does. Because of all the things that have happened, Jai hasn't felt 100% about the relationship - especially as things have been a bit rocky.
"We'll see more of that soon, as Cain is back on the scene and becoming a bit more involved again. He's pulling Charity away from Jai, because Sarah is ill. That means that Charity and Cain are becoming quite friendly again, rather than there being hostility there. Recently it's seemed like Charity can't stand Cain, but when that stops being the case, it becomes very hard for Jai to bear."
What happens with the Jai, Charity and Cain love triangle after that?
"The harassment and Cain's determination to stop the wedding is what we're filming at the moment, so that will play out and intensify in the coming weeks. So there's going to be lots of twists and turns to watch out for when it comes to this storyline. And what's interesting is that it's not just about Jai, Charity and Cain anymore. Because of Cain's actions, we start to see the net cast a bit wider and other people get involved. Again, that affects Jai and Charity's relationship."
If that wasn't bad enough, Jai also has Declan as an enemy…
"Yes, he also has the Declan thing and that is now a very difficult relationship - it's very strained. At the moment, we're filming some scenes where that is being revisited and there's extra strain being put on Jai and Declan's relationship."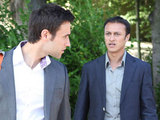 On the bright side, it seems like Jai and Nikhil are becoming much closer. Would you agree?
"Yeah, definitely, and I think that's been one of the good things to come out of all the troubles that Jai has had recently. Jai and Nikhil now seem a lot more united. And I think you'll see that when the rest of the Sharmas arrive in the village in a few weeks' time.
"What you'll see is that Jai will stand up for his brother. It's been Jai and Nikhil for so long, so when the rest of the family invade into their lives, they do have to stick together and look out for each other."
Does that mean Nikhil will also be supporting Jai?
"Yes, Nikhil will keep a lot of Jai's secrets for him. For example, Nikhil knows about Mia, but the rest of the family don't yet. He also knows about all the stuff that Charity has been up to. You're going to see some really tender scenes between the two brothers, where Charity has really pushed things too far and Nikhil is the one who Jai talks to about it. There's a special relationship between Jai and Nikhil now, which is nice."
How long would you like to stay at Emmerdale for?
"I'm very happy working at
Emmerdale
. The show's on the up and we've got great storylines at the minute. I'll be here until next July at least, and then we'll see where it goes from there."
> For loads more gossip on the arrival of the Sharma family, read the second part of our interview with Chris Bisson in Soap Scoop