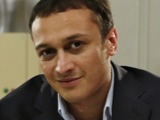 Emmerdale
newcomer
Chris Bisson
has revealed that he is impressed by the soap's ongoing revamp.
The actor, who makes his
debut
as Jai Sharma this week, admitted that he is excited to be part of series producer Gavin Blyth's vision for the show's future.
In June, Blyth
promised
to make a number of "slow-burn" changes to the Yorkshire-based drama in an attempt to increase its appeal to viewers. He
joined
the programme in January following the
departure
of predecessor Anita Turner.
Speaking to
DS
, Bisson commented: "It's great to be part of a new show. You've got new characters coming in, new actors - a lot of really talented, experienced actors - and a great team of directors and writers as well.
"Gavin's pulled his best team around him and it really shows in the scripts. They're really well-written and crafted. When you first start on a show, you're not sure what your script's going to be like or if your character's well-defined, and our new family have been from the start."
Bisson's first storyline on the soap sees him opening up a sweets factory with siblings Nikhil (Rik Makarem) and Priya (Effie Woods).
> Click here to read our interview with Chris Bisson