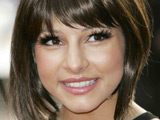 Roxanne Pallett
has claimed that her
Emmerdale
exit sent out a positive message to victims of domestic violence.
The 26-year-old actress argued that the time was right to leave her role as Jo Sugden due to the serious nature of her storyline on the Yorkshire-based soap.
Pallett
bowed out
from her part last year after viewers had seen Jo being tormented by her husband Andy (Kelvin Fletcher) for months.
Speaking to
PA
, she explained: "It was me that said I need to go and leave, and not just for my own sake as an actress before I start becoming repetitive. I needed to leave for the character's sake, for the storyline."
She continued: "Women across the country were waiting to see what happens to Jo because it was almost like it was their own dialogue as well. If she had stayed, what kind of story would that be telling? The ending had to be that she left him, to set a positive example."
Pallett recently
confirmed
that she wants to earn her "acting stripes" before considering a return to the Dales. However, she refused to rule out a reunion for Jo and Andy in the future.