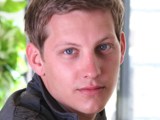 Emmerdale
series producer
Gavin Blyth
has promised that Ryan Lamb will be brought to the forefront of the soap in the months ahead.
Mechanic Ryan, played by former
Hollyoaks
actor James Sutton, was
introduced
to the rural drama earlier this year as part of Blyth's ongoing
revamp
.
Speaking to
DS
about the character's impact, Blyth commented: "Everyone knows that I have a lot of respect for James and he's certainly been part of taking
Emmerdale
in a new direction. The garage feels more real than it's ever done. He came in with a big storyline, but to have kept Ryan there all the time wouldn't have allowed for other characters to grow around him."
He continued: "You won't be able to ignore Ryan from hereon in. Ryan's not here to be a one-hit wonder. His character's so universal and grounded and what happens to him from this month going into the early part of next year is just intriguing."
The leading producer conceded that there is still work to do before Ryan and the new
Barton
and
Sharma
families are accepted as key parts of the programme.
He said: "What we need to do now is solidify what we've got. I brought two biggish families - the Bartons and the Sharmas - so I'm looking to let them settle, likewise with a couple of other characters like Ryan. He's been at the fore a little, but he's not yet truly come into his own. I want to build on the foundations that we've established with those characters - they need to earn their place in the show."
Last week, it was
reported
that Ryan would be at the centre of an incest storyline at Christmas.
> Click here to read Gavin Blyth's Producer's Perspective 2009
> Click here to read what's to come in Emmerdale in 2010