Soaps News
"Heartbreak" for 'Dales Paddy, Marlon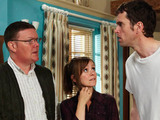 Emmerdale
series producer Gavin Blyth has teased that there will be "heartache" and "heartbreak" for best friends Paddy Kirk and Marlon Dingle.
Vet Rhona Goskirk (Zoe Henry) has been dating Marlon (
Mark Charnock
) but developing feelings for Paddy (Dominic Brunt) in an ongoing plot.
"[There is] heartache and heartbreak is coming their way," Blyth said. "Their friendship is going to be tested and broken apart.
"They are going to have to work to put it back together and that's because of Rhona effectively loving Paddy.
Blyth added that the plot would focus on whether or not the pair are "capable of betraying each other".
"They're probably not and their love is probably stronger for each other than it is for Rhona," he said. "But how that manifests itself we will see."
Brunt continued: "I'm fascinated to see it played out, because our relationship on screen has been based on silliness and arsing about.
"This really really mixes it up and isn't funny at all," he added.
> Blyth teases Paddy, Marlon "tragic" plot
Get the Inside Soap magazine on your iPhone or iPad