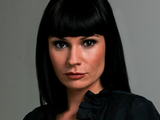 Lucy Pargeter
has revealed details of
Emmerdale
's Christmas Day wedding drama.
Speaking to
Soaplife
, the actress explained that her alter ego Chas may "forgive and forget" fiancé Carl's affair with Eve (Suzanne Shaw).
She said: "She's in love with him. She always has been. He's messed about so often over the years and she really never thought it would happen again. Even though it has, Chas still loves Carl (Tom Lister). It's really why the revenge plan isn't exactly going to plan.
"Chas just kind of succumbs to him because she can't help herself, but also because she wants them to be like they used to be. Carl's very persuasive and Chas feels that they are meant to be together. It's very possible she may decide to forgive and forget."
Pargeter added of the opportunity to have a major festive plot: "I'm just pleased there is a wedding - or at least part of one. I'm not saying what happens! It's been exhausting, but fantastic. It's the first time I've been blessed with a Christmas Day storyline and I hope I've done everyone proud."