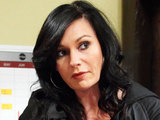 Emmerdale
's
Lucy Pargeter
has revealed that Chas Dingle fears the revenge Carl King may seek against her.
Chas dumped Carl at the altar on their Christmas Day wedding when she revealed that she knew about his affair with Eve (Suzanne Shaw). However, with her suspicions that he could have been behind last week's fatal blaze, Pargeter teased that Chas is watching Carl's every move.
"Chas knows Carl wants to get even with her for humiliating him in front of the whole village," she told
Soaplife
. "Maybe she's over-reacting, but she can't put the possibility out of her mind."
Admitting that the situation "rattles" Chas, she continued: "She knows Carl and it's unlikely he's just going to give up. The uncertainty is getting to her. Carl might do all kinds of things to get his revenge... sabotage her job or hurt Aaron. Chas feels she's constantly having to watch her back."
However, the actress admitted that things could still work out for the pair despite current events.
"She'll always love him - but she also hates him right now," she added. "They're the loves of each other's lives. Part of her wishes she had married him... and, who knows, maybe one day she still will."