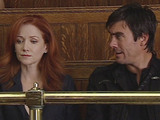 Emmerdale
star
Kim Thomson
has revealed details of a new storyline twist that will see her character Faye Lamb sleep with Cain Dingle.
The actress's feisty alter ego has recently been stirring up trouble for Cain's relationship - keen for revenge against his partner Charity due to her recent behaviour at the Sharma & Sharma sweet factory.
Speaking to
Take It Easy
, Thomson confirmed that fans can expect things to go a step further next month when Cain and Faye end up in each other's arms.
Thomson explained: "She sleeps with him. There's always been a bit of a spark between them. But it's more of a mutually convenient thing than anything else - it suits them both to rekindle it.
"Cain's furious with Charity and Faye's gunning for her too after she tried to elbow her out of the factory."
She continued: "Cain is convinced Charity slept with Jai so he wants revenge - and the best way to do it is to sleep with Faye. He doesn't yet realise Charity couldn't go through with it because she loves him so much. He'll be devastated when he finds out."
Thomson has also disclosed that she will be
leaving
Emmerdale
at the end of her current contract.
> Click here to read our Emmerdale spoilers