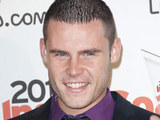 Emmerdale
star
Danny Miller
has said that his self-harm storyline is a "massive challenge".
The actor's latest plot sees Aaron Livesy continue to struggle with his role in the assisted suicide of boyfriend Jackson Walsh. Speaking to
Soaplife
, Miller said that the vulnerable mechanic remains "very angry about everything".
"He's so angry. Hurting himself is pretty scary, but it changes his mood, he's almost happy when he's hurt," he said.
"He's still very angry about everything. He thinks he and Hazel should have given Jackson longer to adapt to his altered life, although Jackson was pleading to die. Aaron loathes himself and he won't let anyone in to help him. The self-harming is how he's dealing with this."
Aaron uses a new punching bag to account for his injuries, which become "a kind of release", Miller explained. He added: "The punchbag is a great cover for his self-harming. When anyone asks why he has cuts and bruises he can make out it's because of the boxing."
Asked what Jackson would think of Aaron's emotional state, the 20-year-old said: "It's gone way beyond that. He doesn't care what Jackson might have wanted. He's so full of self-hatred nothing else matters. He won't stop this until someone steps in. At the moment it's his secret and he likes this."
On his own research into the plot, Miller added: "I've spoken to someone who used to self-harm and now runs a charity to help people who want to stop. I've also done some research on the internet and gone to the website www.selfharm.co.uk. This storyline is a massive challenge. I love it."
> More Emmerdale news and spoilers
> Emmerdale star: 'Aaron and Chas reach a turning point'