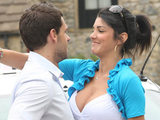 Emmerdale
star
Natalie Anderson
has admitted that she does not want Alicia and Andy's forthcoming split to be permanent.
Andy dumps Alicia next week
after deciding that his focus should be his young daughter Sarah, who has a mystery illness.
Speaking to
Inside Soap
about her character's heartbreak, Anderson explained: "I'm so sad that they've split up. I really liked them as a couple and thought they had a long way to go.
"If Andy lets her in and opens up about Sarah, we could hopefully see a different side to Alicia - so I'm keeping my fingers crossed that they'll get back together."
Viewers will see Alicia go on the rebound in the aftermath of her split from Andy (Kelvin Fletcher), welcoming the romantic advances of Carl King, played by Tom Lister.
Anderson said: "Alicia finds Carl's attention very flattering but she doesn't take it too seriously. I think she can spot a snake in the grass - even if he's a good distraction! Alicia would be interested in having a bit of fun with Carl, but she's not stupid - she knows he's a bad boy."
> Read more Emmerdale spoilers and news
> Check our guide to this week's special schedule for Emmerdale and Coronation Street
Watch a video preview of tonight's episode of
Emmerdale
below: