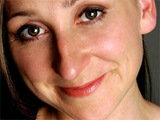 Emmerdale
star
Charlotte Bellamy
has promised that there are surprising "twists" on the way as her character Laurel Thomas's storyline with Marlon Dingle continues.
Laurel recently confessed to Marlon that she has feelings for him, but insisted that she could not act on them due to her marriage and family life with village vicar Ashley (John Middleton).
The pair share a kiss in tonight's episode of the soap
but both agree afterwards that they should try to forget it and remain friends.
Bellamy, praising the plotline, told
We Love Telly
: "She's a good woman, so it's nice to be a bit naughty. But sometimes it's quite uncomfortable. I always thought she was such a pure and honest woman. Now she tells lies."
Asked whether Laurel could have a future with Marlon, she replied: "Aha! You'll have to wait and see. There are lots of twists and turns. It's not a simple case of having an affair. It's not what you think it's going to be, and a lot of other things will happen in their lives."
Bellamy added that Laurel needs to "be true to herself" as she continues to struggle with her feelings in the weeks ahead.
"There are kids involved, and she's not necessarily going to throw all that away," she explained.
Emmerdale
continues tonight at 7pm on ITV1.
> Emmerdale Poll: Who should Laurel be with?
> Read more Emmerdale news and spoilers
Watch a video preview of tonight's
Emmerdale
episode below: