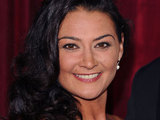 Emmerdale
star
Natalie J Robb
has revealed that there will be more big storylines on the way for the Bartons in 2012.
The family have been brought back to the forefront of the soap in recent months thanks to their feud with Declan Macey and struggle to keep the farm afloat. Robb's character Moira is also
about to embark on a steamy affair with Cain Dingle
(Jeff Hordley).
Speaking on
Lorraine
this morning, Robb predicted that Moira may never be quite the same once her current storyline with Cain is over.
"It gives a bit more dimension to the character," she explained. "She's always kind of been on the backburner, Moira, and now she's coming to the forefront. And she'll discover herself - there's a bit of a dark side to her that's going to stick around now."
She continued: "Next year we're going to have even more explosive storylines. It's the 40th anniversary next year - big storylines coming up. There's going to be lots of big stories for the Bartons at the beginning of next year as well."
Robb also hinted that Cain's bad boy ways could come back to haunt him if he carries on upsetting people.
"[There's also] big storylines all around Cain coming up, leading up to Christmas," she said. "He's making a lot of people unhappy, put it that way, in the village. Bad repercussions are coming."
Moira and Cain sleep together for the first time in Thursday night's
Emmerdale
double bill.
> Emmerdale Cain will get nastier, warns Jeff Hordley
> Emmerdale Moira, Cain shock not a one-off, says Natalie J Robb
> Emmerdale's Natalie J Robb: 'Moira can't resist Cain'
> Emmerdale star Natalie J Robb teases Moira affair fallout
> Read more Emmerdale spoilers and news