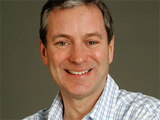 Emmerdale
star
John Middleton
has admitted that his character Ashley Thomas may want "revenge" when he goes AWOL on the day of his wedding vow renewal.
Ashley and his wife Laurel (Charlotte Bellamy) are currently planning to reaffirm their commitment to each other as they desperately try to move on from a recent relationship crisis.
The couple hit the rocks earlier this year when Laurel fell for chef Marlon Dingle and considered ending her marriage to pursue a future with him.
Emmerdale
airs Ashley and Laurel's big day at the end of next week, but there is drama ahead when Ashley fails to turn up to the ceremony on time - leaving viewers to wonder if Laurel has been jilted by her husband.
Middleton told
itv.com
of his alter ego's motivation: "I think Ashley's actually torn right apart by this and he doesn't know what to feel. He's hoping he's doing the right thing.
"He's tempted to exact a great act of vengeance on Laurel, really, by just not turning up at all. Or does he go through with it and hope for the best? He's very, very conflicted by the whole thing."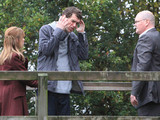 Another story strand in the episodes sees Marlon consider heading to the church himself to win Laurel's heart when he hears that Ashley hasn't turned up.
Mark Charnock, who plays Marlon, commented: "At this stage of the story, Marlon's absolutely in pieces, because he thinks he's missed his final chance of winning Laurel's heart. He's let it all go on too long. He should have stepped in and manned up earlier, but he just didn't do it - because he doesn't have manning up in him!"
Emmerdale
airs Laurel and Ashley's big day next Thursday from 7pm on ITV1.
> Emmerdale Marlon faces huge wedding dilemma
> Emmerdale's Charlotte Bellamy: 'I wouldn't forgive Laurel'
> Emmerdale Laurel plot has big change ahead, says Charlotte Bellamy
> Read more Emmerdale spoilers and news