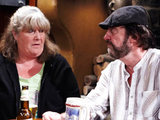 Emmerdale
series producer
Stuart Blackburn
has revealed that the Dingles will face the "biggest challenge of their lives" in 2012.
The family have already suffered a tough 12 months following the revelation of
Lisa's (Jane Cox) rape ordeal
and their attempts to bring her attacker Derek Benrose (Stephen Bent) to justice.
However, Blackburn teased that life will only become harder for the Dingles next year as they face a new set of challenges they have "never come across before".
"The Dingles are going to be massive," he said in a 2012 preview video. "They're such a superb family unit. Things have been tough for them, I think it's going to get a whole lot tougher.
"They're going to be facing things they don't understand and have never come across before. We're going to push them right to the wire. The Dingles are going to be on screen facing the biggest challenges of their lives."
Blackburn also expressed his pride in the
Cain Dingle (Jeff Hordley) attack plot
that dominated the end of 2011 and will continue into the New Year.
He said: "The whole Cain story has been nearly a decade in the making so watching that unfold, knowing where it's going to take us, it's just been fantastic."
> 'Emmerdale': John remains fans' top suspect in Cain mystery
> Jane Cox: 'I'd hate Zak and Lisa split'