Emmerdale
star
Charlotte Bellamy
has admitted that she does not foresee a happy ending for Laurel and Ashley Thomas.
The couple are currently trying to get their troubled marriage back on track following the strain caused when Laurel fell for Marlon Dingle (Mark Charnock).
However, Bellamy told
Inside Soap
that the pair could still split - especially as Laurel still has strong feelings for Marlon.
Bellamy explained: "What's going on now between Ashley and Laurel is so dark and murky. I don't know how they can ever get their relationship back on track."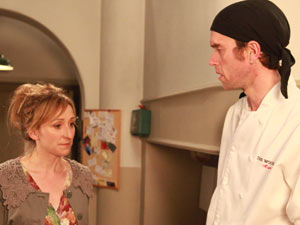 She continued: "Laurel's trying to suppress and repress what she feels for Marlon, because she's focused on the future - and for her, that means her children.
"Laurel blames herself for hurting Ashley and that's why she'll do whatever pleases him now. But she won't be able to ignore her feelings forever."
The actress added that a future for Laurel and Marlon currently appears to be the most likely option.
Speaking of Laurel and Ashley (John Middleton), she commented: "I think they're doomed. Too much has happened. If they split, Laurel would go to Marlon. She wouldn't do it immediately, but what has developed between them is so strong that I believe they'd end up together. That's what the audience seems to want, too."
Emmerdale
continues tonight at 7pm on ITV1.
> Emmerdale boss: 'Love triangle will haunt Laurel, Ashley, Marlon'
> Read more Emmerdale news and spoilers