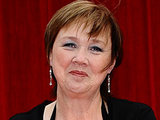 Emmerdale
star
Pauline Quirke
has admitted that she shed real tears while filming her emotional exit scenes.
Fans of the soap will see Quirke's character Hazel Rhodes depart the village tonight, deciding that the time is right for a fresh start. In real life, the 52-year-old chose to bow out from the ITV1 show
as she is working on a stage version of Birds of a Feather in the coming months
.
Hazel bids a final farewell to troubled Aaron Livesy (Danny Miller) before she leaves, marking the end of a turbulent journey for the pair.
Quirke told
Daybreak
this morning: "Tonight, there's a scene where Aaron and Hazel say goodbye to each other, and I've got to be honest, I don't know how much of that was acting and how much of that was me and Danny actually quite upset. So it was an emotional scene. I'm very friendly with Danny - and all of them."
The actress added that she is hoping to see Miller and Chelsea Halfpenny (Amy Wyatt) recognised at tonight's National Television Awards, where they are
nominated in the 'Serial Drama Performance' and 'Newcomer' categories respectively
.
"[Danny's] terrific. He's absolutely one of the most talented actors that I've ever come across - and bear in mind he is 21," she explained. "And so is Chelsea, who plays Amy - the stuff that she's done this year. So I really hope that they both get recognised for it."
Quirke also reaffirmed
her desire to return to Emmerdale in the future
.
"They very, very nicely asked me if I'd come back," she confirmed. "We're coming up to the 40th anniversary, so hopefully I'll come back. Hazel's gone off to Barcelona, but hopefully she will appear in the not-too-distant future."
Emmerdale
airs Hazel's final episode tonight at 7pm on ITV1.
> Read our spoiler for tonight's episode of Emmerdale
> Read more Emmerdale spoilers and news
Watch a preview of Thursday night's
Emmerdale
double bill in the video below: