7
Soaps News
'Emmerdale's Alicya Eyo: 'I'm in awe at being here'
Alicya Eyo
has revealed that she is still "in awe" at joining
Emmerdale
.
The former
Bad Girls
actress
joined the soap in October as Ruby Haswell
, and has described her latest role as "incredible".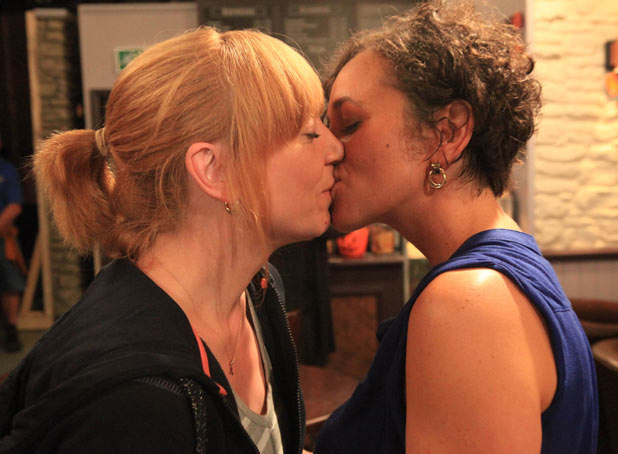 "I grew up with
Emmerdale
," she told the
Liverpool Echo
. "It's always been a part of my life so it's been incredible. To be in something that's been running for so long is amazing.
"I still have moments when I'm on set and I have to shake myself. I'll be in The Woolpack and I'll see photos of [past characters] Amos, Seth and Jack Sugden. And I'm in awe. I have to tell myself 'You're at work. Calm down'."
Eyo also praised the "amazing" support she has received from friends and family back home in Liverpool since she joined the show, and revealed that she is able to split her time between Leeds, London and her hometown.
"It's been really nice because people have been really supportive," she added. "One woman chased me round Asda on Smithdown Road the other day. She and her granddaughter were huge fans of
Emmerdale
and she wanted an autograph. She didn't have a pen so she said 'I'll meet you at the checkout.' Everyone's been great and they say 'good on you girl'.
"My family are in Liverpool so I spend a lot of my time here. Ruby's slightly different to me. But it was good I could relate to her as I'd come from a city. She's a great character to play. She's cheeky and down to earth."
Speaking about her character Ruby's ongoing financial issues with her partner Ali Spencer (Kelli Hollis), she said: "I've met lots of people who can relate to the storyline. Ruby has never had huge responsibilities but now she has a ready-made family.
"They're skint and they have to weigh up what's best for the family now there are four mouths to feed. Ruby adores Ali but she misses her old life. They wonder if they've done the right thing."
> Read the latest Emmerdale stories
Get the Inside Soap magazine on your iPhone or iPad