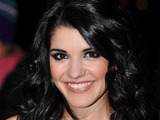 Natalie Anderson
has revealed that she is expecting a baby boy.
The
Emmerdale
actress, who
has played barmaid Alicia Gallagher
in the ITV1 soap since August 2010, said that she and husband James Shepherd were very "excited" to discover their unborn child's gender.
Anderson told
Hello
magazine: "We are thrilled to tell you we are expecting a little boy! We are both so excited."
When the star
first revealed her pregnancy
, she said that she and Shepherd were "so happy" about the news but added that she had been struggling with "disguising" her growing bump.
While recalling her first scan, Anderson revealed: 'I cried and James had a tear in his eye. It was incredible to see the tiny hands and feet, the face and this little thing dancing away."
She also revealed that she feels like her late grandfather, who died last year, is "watching over" her during the pregnancy, adding: "If I'm feeling nervous about the baby, anxious that things will be all right, I feel him around me. It's a lovely feeling."
> Read our Emmerdale news and spoilers