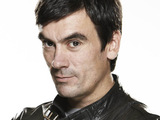 Emmerdale
star
Jeff Hordley
has predicted that viewers have not seen the last of Cain Dingle's nasty side.
Cain has behaved more calmly in recent months as he continues to recover from his father Zak's brutal attack on him.
Hordley told
Soaplife
of his character: "He's gone into his shell a bit because of everything that's happened to him over the last year, but I'm sure he'll come out of it and start doing nasty things again.
"I hope so anyway, because it's fun playing a bad lad. But it's also good playing a softer, gentler side - that's probably a bit more like me."
Cain comes to Zak's rescue next week
when the unstable pig farmer goes wandering on the moors and ends up in danger. However, Hordley warned that they will not necessarily settle their differences any time soon.
He said: "Cain told Zak and Lisa that while he would always keep up appearances in front of the family, his relationship with them was over because of Zak's attack on him.
"Going up on the moors is a massive thing for him to do, but I'm not 100% sure it will change things. You can't forget something like that."
Emmerdale
airs weeknights on ITV1.