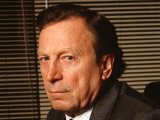 The Dales will be rocked by murder this Christmas when a Cluedo-style whodunnit sparks the biggest police investigation in
Emmerdale
history.
Millionaire businessman Tom King (Ken Farrington) is sensationally bumped off during his Christmas Day wedding to Rosemary Sinclair (Linda Thorson). During the lavish reception, the entrepeneur is hit over the head with a blunt object and plunges to his death through a window.
The ensuing weeks will be full of twists and turns as some of the show's most popular characters are placed at the centre of the enquiry, facing fierce interrogation in the hunt for the killer - the police are determined to leave no stone unturned.
In a world first, the whole storyline is to be fully interactive allowing viewers the opportunity of becoming super sleuths to help solve the crime via a dedicated ITV online portal. To be launched next month, it will consist of blogs, clues, secret e-mails and voicemails.
The viewer will be taken inside the show and have direct online interaction with the storyline. The cast will be seen trying to piece together the murder and their findings will, in turn, be immediately available for viewers to tap into online.
To add to the mystery, and for the first time ever,
Emmerdale
will film 10 secret scenes, each showing a different suspect committing the murder and therefore enabling 10 different possible outcomes. As a result, even the cast and crew won't know who the killer is.
Series producer Kathleen Beedles said: "We are very excited about this storyline and thrilled to be able to involve our viewers in this unique way, giving them the opportunity to try and work out for themselves who is responsible for Tom's dramatic death."
An insider added: "The investigation looks set to go on for months rather than weeks and will be resolved in the spring."
Actor Nick Miles - who plays Jimmy King in the soap - told
DS
: "We're calling it the Cluedo episode in the greenroom because nobody's seen inside the black envelope. We just don't know what's going to happen!"