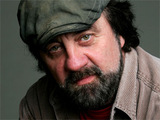 Emmerdale
star
Steve Halliwell
has said that his current storyline has seen him being pushed as an actor.
Halliwell's character Zak Dingle has
suffered a mental breakdown
in recent months, and is currently facing financial issues with a loanshark on the soap.
"[Fans have] seen another side to him. The guy who can sort everything out with his fists, he's realised that's not always the answer," he told
Daybreak
.
"It was difficult because to make it real you have to go there in your mind to places you don't want to and trigger off emotions."
Halliwell explained that many viewers have contacted him to say that they have related to Zak's problems.
"People are talking to me about their own mental illnesses. They feel like they know Zak and talk to me as if I'm Zak.
"People's lives are full of dramas. It's reflective of real life in that sense."
The actor is
nominated for his role of Zak Dingle for 'Best Actor'
at this year's Inside Soap Awards.
On his nomination, he said: "It's lovely. It's a measure of whether you're doing it well or not, I suppose.
"If the business say they want to give me an award then that's great. I think a lot of people vote for who they fancy so I'm out of the running!"