Emmerdale
star
Mark Charnock
has praised Marlon Dingle and Paddy Kirk's feud storyline, hailing it as "wonderful" to film.
Marlon's friendship with Paddy is currently under severe strain as he pursues legal measures to ensure that his young son Leo is not taken away from him.
Paddy and new wife Rhona - Leo's mum - have recently decided to move to New Zealand for two years with the youngster, leaving Marlon in turmoil.
Speaking on
Daybreak
this morning (August 13), Charnock said that the plotline has been one of his best ever.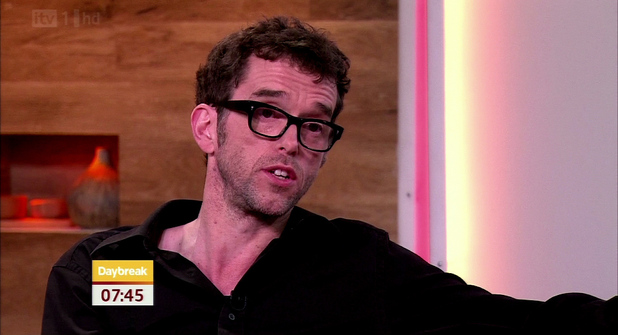 Pictured: Mark Charnock on Daybreak.
Charnock commented: "It's been an amazing story. I mean, I've been here for 150 years and it's one of the best I've ever had! It's become really complex and the situation is now taking a legal turn. He's taking his mate to court, and it's a horrible situation."
He continued: "It's been a wonderful story, because at any given moment, with all the characters, you're kind of for them and against them. It's one of those moral quagmires. It's been amazing."
Charnock added that it has been enjoyable to film so many heated scenes with Dominic Brunt, who plays the role of Paddy.
He enthused: "We're really close friends. Usually we do a lot of comedy together, so being able to shout at each other and play something really serious, it's so refreshing. It's added another layer to that relationship that we've been building up for the last 15, 16 years."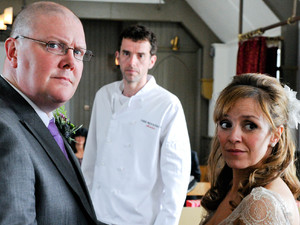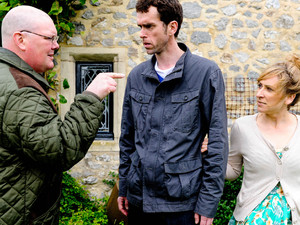 Asked whether he has ever considered leaving
Emmerdale
, the actor replied: "No, because I've had so many good stories. I find it such an enriching experience every day. It's like going to school, really. You go into work and laugh - what more could you ask for?"
Emmerdale
continues tonight (August 13) at 7pm on ITV1.