1
Soaps News
'Emmerdale' Sian Reese-Williams expects Gennie, Chas, Cameron fallout
Emmerdale
star
Sian Reese-Williams
has hinted that her character Gennie Walker may have to face the music for protecting Chas Dingle's secret.
Back in the summer,
Gennie discovered that half-sister Chas was having an affair with Cameron Murray
, but she ultimately decided to keep quiet about it when the love cheats both agreed to end the fling.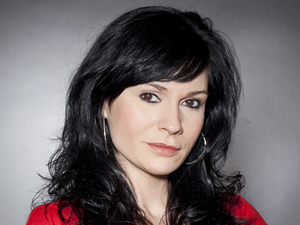 > 'Emmerdale's 40th anniversary - full coverage
With the affair storyline coming to a head for
Emmerdale's 40th anniversary this week
, it is possible that Debbie Dingle may soon find out that Cameron has betrayed her by sleeping with her aunt.
Speaking to
Digital Spy
, Reese-Williams confirmed that Gennie will find herself in an awkward position if the truth about Chas and Cameron does come out.
She commented: "Nothing ever goes unpunished in soapland, does it? I'm sure that this won't, either. Gennie's role in keeping the secret will be brought up again, I'm sure. It's lurking in the background!"
In the meantime,
tomorrow's hour-long live episode of Emmerdale
will see Gennie give birth to her first child.
Asked if her theatre background makes her well-equipped for the special broadcast, Reese-Williams replied: "I guess in the way that I hopefully know how to deal with things if they go wrong. For example, in theatre you know how to cover for someone else. But we've all got each other's backs and we'll get through it together."
Emmerdale Live
airs tomorrow from 7pm on ITV1.
Get the Inside Soap magazine on your iPhone or iPad