Emmerdale
star
Alicya Eyo
has hinted that she would like to explore a parenthood storyline for her character Ruby Haswell.
Ruby,
who joined the village a year ago
, is already helping to raise her partner Ali Spencer's two children Sean and Amelia in the ITV1 show.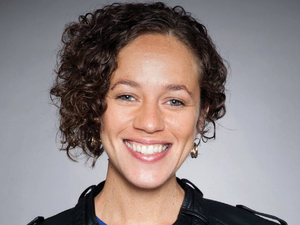 In a new interview with the
Liverpool Echo
, Eyo confirmed that she recently renewed her
Emmerdale
contract and is looking forward to seeing what is next for Ruby.
Eyo commented: "Coming into
Emmerdale
was daunting, really scary - like starting a new school - but I was so excited too. It's a dream job. Everyone's really welcoming.
"And the character is great. Ruby takes people as she sees them and expects others to do the same. She has taken on a ready-made family and all that entails, and she's got to know the kids really well and been there for them.
"It's really exciting to see what happens now - maybe they will go on to have a child themselves, I don't know, but that would be a cool storyline."
The 36-year-old also expressed her excitement ahead of
Emmerdale's first ever live episode
this evening (October 17).
She said: "It's electric, everybody's on it. I feel so lucky to be a part of it. There's a great sense of camaraderie and everyone bonding - stuff like this brings people together. The whole week is explosive, but tonight so much can go wrong."
Emmerdale Live
airs tonight from 7pm on ITV1.