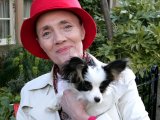 The dog who plays Edna Birch's pet Tootsie in
Emmerdale
has died.
Sky joined the ITV1 soap in 2002 when homeless Tootsie was taken in by Paddy (Dominic Brunt) and Emily (Kate McGregor). She later became Edna's (
Shirley Stelfox
) beloved companion.
The Papillion was brought into the show following the demise of Edna's previous dog Batley, whose death was voted best exit at the 2002 British Soap Awards.
She went on to star in several dramatic storylines, including Edna's hit and run accident in 2004 and the cross-breeding with the Dingles's dog Alfie last March.
Her owner Linda Woodrow, who breeds Papillions, has now arranged for new dog Dusty to take over the role, enabling Tootsie to be reunited with Edna as part of
Emmerdale
's 5000th episode celebrations on June 3.
Stelfox said: "Sky was a very special dog and a good friend. I do miss her greatly. We must now see Dusty as Tootsie, although her personality is very different."
Woodrow added: "I feel very privileged to have known such a special little Papillion as Sky and she will remain in our hearts forever. But I am thrilled that Dusty has been given the opportunity to fill Sky's collar."