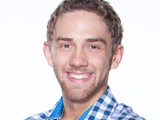 I recently had a chat with
Emmerdale
star
Marc Silcock
to hear about his National Television Awards nod for 'Best Newcomer' and why he deserves your vote.
Click here
to read the main chunk of the interview, or read on for some bonus snippets from Marc, focusing on what's to come for his character Jackson in the months ahead…
There's always a lot of speculation surrounding how long you're staying at Emmerdale. Are you sticking around for the foreseeable future?
"All I know at the minute is that I'm here until the spring. So at the moment, that's the way it stands. Whether the producers see fit to change that is completely up to them and I'm open to suggestions, but at the minute my contract finishes in spring this year."
Where are things heading for Aaron and Jackson this year?
"I think they're heading almost to a resolution, really. Jackson is getting a bit sick of Aaron hanging about and feeling guilty, and he really doesn't want to burden Aaron anymore by having him in his life. He doesn't want the fact that he's paralysed and a tetraplegic to have any effect on a young man's life, so Jackson starts to forcefully push Aaron away. It's not subtly and it's not sneakily - he does it to his face and tells Aaron that he should go, have another man, have a life and go out. So it leads to Aaron finding a new man in Flynn and that's basically down to Jackson - he doesn't want anything to do with Aaron anymore and tells him to go. He breaks the relationship up clearly and in no uncertain terms - it's the end for those two together."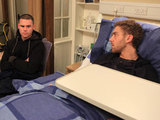 Even though Jackson is the one pushing Aaron away, is it still difficult to see him with Flynn?
"Yeah, it's a bit of a torturous time for Jackson. In a way, he feels a sense of relief because he's no longer a burden on anybody and he's not seeing the weight of his situation crush another person who he loves so much and has always loved throughout the whole relationship. But then, on the other hand, he's seeing somebody else kissing the man that he loves and the man that he wants to be with, so it is a torturous time."
Aaron and Jackson have become quite a much-loved couple among the Emmerdale fans. Is there any way they could sort things out in the future?
"I think that, with the amount of problems that have occurred so far in the relationship, it could be an impossibility. I'm fully aware of how much everybody likes the coupling of Aaron and Jackson and the response that we've had is unbelievable. Obviously everybody wants a fairytale ending, but with the situation that the characters find themselves in, I think it would be extremely difficult for anybody to believe a happy resolution between the two of them. I'm not saying that it's impossible, but I think it's nigh on impossible that the two of them would ever hold hands and go off into the distance."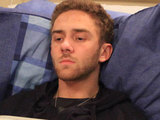 How challenging has it been to portray a character who has such a severe disability?
"When I first found out about it, I thought it would be easy - I thought I could just lie back or just sit there perfectly still. But it's been unbelievably difficult. The way I like to explain it to people is that I like to get them to nod - and obviously you move your shoulders, you move your head and I say to them, 'No, you can't do that!' So it's a case of nodding or yelling or crying without moving anything else, otherwise millions of people are going to see you do something wrong.
"There's a friend of mine who I've started working with recently who's a tetraplegic and he's in the same situation as Jackson. His view on it is that it's all seemed spot on and that I've been doing everything right, which is just unbelievable. I don't want anyone to ever think that I'm just turning up to work and sitting there perfectly still. Every minute of every day when I'm on set filming, as soon as they say 'action', I'm constantly thinking and constantly trying to get things right. It was a lot easier to do it in my mind than it was in reality, but it's absolutely fantastic to go home every day thinking that you've done a day's work - it's brilliant."
Nobody expects a miraculous recovery for Jackson, but is there a chance of any small improvement in his condition?
"I think that the only improvement we're going to see in Jackson's life is the ability for him to get around more in wheelchairs, and also people getting more and more used to his disability. With Jackson's injuries that we're dealing with in the show, there's no way that anyone could recover from the severity of them, so we don't ever want to put an implausible storyline on screen because we don't want anything to dent the track that we've been going down. So no, there won't be any improvement in Jackson's condition but there will be an improvement in the way that he lives his life and his ability to try and lead as normal a life as possible."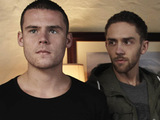 Some fans have commented on the fact that the storyline is being shown through Aaron's eyes and they'd like to see things from Jackson's point of view more often - especially how he's coping with his condition. Will we see that happen?
"Yeah, more of that is to come. Obviously with Aaron's storyline running concurrently with Jackson's, Jackson's story did come in as a spring-off from Aaron's. At the moment we are seeing it through Aaron's eyes a lot and we will continue to do that for a while, but in the coming months, we do start to see how Jackson sees it. At the moment, I think we're dealing with a lot of Aaron's guilt and him struggling to deal with the fact that his boyfriend is in this situation, but with issues that occur now, we do start to see how it's affecting Jackson and we do see the whole situation through Jackson's eyes.
"I think that's going to be quite a moment for people when they see it on screen and when they start to realise the situation that he's in. We've been filming that recently and that does come to the forefront quite heavily - it does hit on a lot of issues which people aren't aware of, but hopefully they'll come across in the storyline."
Would you like to see Jackson get a new love interest of his own?
"Well Jackson is still a person and he still wants to love somebody and have somebody love him back. But I just think, at the minute, we're trying to play the situation so that it's as real as possible and Jackson has got more important things to concentrate on. He's got to try and get some form of life back, as everybody would do in this situation. I'd love to see him have a love interest or someone who he can call his boyfriend, but at the moment, I think his mind is just firmly set on other things."
Finally, are there any main highlights from your time at Emmerdale that you'd like to mention?
"The past year has just been an absolute blur - it's just been absolutely amazing from the time that I got the job until now. I'd say that the highlight was probably being told by Gav Blyth that I'd get this storyline - having somebody trust me that much was a bit of a shellshock, really. I never thought that anybody would give me that much control and trust me so much, so that was fantastic. Looking back on it now, the start of this storyline and being told about it has to be the best moment since I've been here - more than getting the job, more than having a laugh with everybody on set and more than the other amazing things that I've been doing! Being told that by Gav was just brilliant."
Cast your votes for the National Television Awards by clicking here. Marc is nominated in the 'Best Newcomer' category alongside Coronation Street's Paula Lane, Holby City's Olga Fedori and EastEnders' Ricky Norwood.> Click here to read Ricky Norwood's NTA chat> Click here to read Danny Miller's NTA chatLet me know your thoughts using the usual form below!