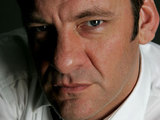 I recently had a chat with
Emmerdale
actor
Nick Miles
to hear all about his character Jimmy King's amnesia storyline, which begins on screen next week.
Click here
to read the main interview, or alternatively read on for some
Soap Scoop
bonus bits…
Will we see Jimmy go for any treatment which could help him to get his memory back?
"Yeah, he tries visiting a hypnotherapist - which doesn't go too well! He manages to recover a couple of childhood memories, but that's it. Jimmy isn't exactly Mr Metrosexual, so some bloke telling him to sit down and relax will just make him more tense!"
What's it been like to have Adele Silva back on set?
"Oh, it's been brilliant fun - we were just talking about that this morning, actually. We were all chatting in make-up and everyone was saying how great it is to have her back. She's just so bubbly and so fun, so it's been lovely working with her again."
Has the amnesia plot been one of your favourite Emmerdale storylines?
"I think it has - just because it's been so bizarre. I like the fact that it's so left-field and that I can play something that is so extreme, in a way. To play a character completely cold around people who are telling him that they're his brother or wife is quite a heavy thing to do. So I'm really enjoying the difference of it."
It's been announced recently that Kim Thomson and James Sutton are both leaving Emmerdale. Are you sad to see them go?
"We're always sad to see people go. Kim's been lovely and James is a fantastic lad. They become your mates and part of the furniture at work. But there will always be a turnover in this kind of series - continuing drama is a tough mistress and quite a rollercoaster to be on. It suits some people to be on it longer than others."
Finally, Emmerdale's recent success at the Broadcast Awards must have been a really nice reward for the team after such a strong year for the show…
"Yeah, especially because of what happened with Gav last year. The Broadcast award was Gav's favourite award, always. It was the one that he really valued the most, because he knew that it was the award that came from our peers. I was absolutely thrilled that we won that one - mostly for Gav."
Are you looking forward to Jimmy's new storyline? Let me know your thoughts using the form below!